Considered by many dentists to be the most long-lasting solution to missing teeth, dental implants offer a second chance at a healthy, functional and beautiful smile. Crafted using strong and durable materials and with a patient's unique specifications in mind, dental implants enable patients to chew and speak normally, and smile confidently again.
Dental implants consist of a titanium post surgically inserted into the jaw for optimal stability and an artificial tooth or teeth placed on top of the post. Successful placement and restoration of dental implants requires the training and skill of an expert team. Dr. Julie Spaniel is a restorative dentist who has years of experience designing and placing strong and lifelike dental restorations. She regularly collaborates with oral surgeons that place implants to make the entire dental implant process as smooth and successful as possible.
Find out if dental implants can restore your oral health and smile by scheduling a consultation with Summerwood Aesthetic Dentistry.
Dental Implant Benefits
Dental implants offer a number of advantages for tooth replacement. The placement of the titanium post allows the artificial tooth to remain in place, allowing you to eat, chew and speak comfortably. Dental implants also stimulate the jaw bone, preserving a natural facial appearance. Filling in gaps left by missing teeth prevents the surrounding teeth from drifting. Implants also lower the risk of decay and other dental issues associated with missing teeth. Dental implants are fabricated using natural-looking materials, ensuring a beautiful and seamless smile.
Dental implants can be used to support one, several or a full arch of teeth. Dr. Spaniel can discuss your options with you in detail upon evaluating your oral health, dental needs and goals.
Dental Implant Placement Process
Placing and restoring dental implants is split up into three stages. The first stage is performed by an oral surgeon who surgically inserts the implant post or posts into the jawbone. During the second stage, the jawbone is left to heal and fuse together with the implant post. This stage, called osseointegration, takes approximately three to six months to complete and is crucial to ensure a stable foundation for the artificial tooth or teeth that will be placed on top of the post.
Once the post and jawbone have fused together properly, the third restorative phase occurs. During implant restoration, Dr. Spaniel will cover the top of the implant post with a connector piece (or abutment) and place the artificial tooth on top. The artificial tooth is crafted to resemble the surrounding teeth in color, shape and size. The dentist will check your bite to ensure a perfect fit. Any last-minute adjustments to the restoration will be made before it is buffed and polished for a seamless and beautiful look.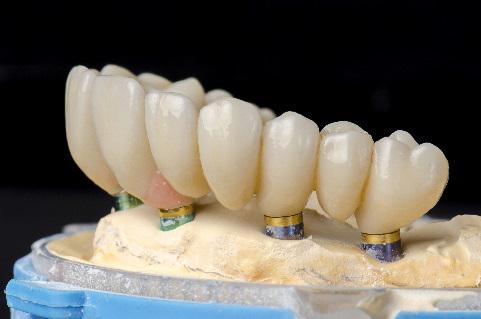 Dental implants can last for many years, but good oral hygiene is crucial. In fact, not brushing and flossing properly is a leading cause of implant failure. Bad lifestyle habits such as smoking can also lead to complications with dental implants. Routine checkups with Dr. Spaniel are important so she can make sure your implants are functioning properly.
Restore Your Smile with Dental Implants
To learn more about the placement and restoration of dental implants, please contact Summerwood Aesthetic Dentistry and request a consultation with Dr. Spaniel.