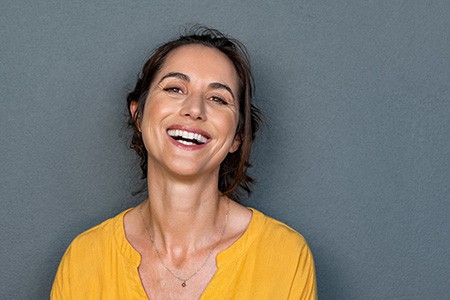 Does your mouth need a significant amount of dental work to restore it to full functionality? When multiple procedures are necessary, Dr. Julie Spaniel, a leading dentist in Oregon, often suggests full mouth restoration to ensure that you can chew and speak without problems and avoid the embarrassment associated with having an incomplete smile.
With full mouth restoration (sometimes referred to as full mouth reconstruction or full mouth rehabilitation), she can combine restorative procedures so that you have a complete, attractive smile once again.
Are You a Candidate for Full Mouth Restoration?
Dr. Spaniel may recommend full mouth restoration if you:
Have let your teeth fall into disrepair due to insufficient oral health practices (brushing and flossing)
Suffered an injury to your mouth that knocked out or broke several teeth
Experience advanced-stage periodontal disease such that your gums can no longer support your teeth
Have a medical condition that causes or genetic predisposition to tooth decay
Grind your teeth while sleeping at night, which has worn them down
Procedures That May Be Included in Your Full Mouth Restoration Plan
Every full mouth restoration that Dr. Spaniel performs is customized to the unique needs of the patient, which means that the procedures included in your full mouth restoration may not be the same as another patient's plan. After assessing your mouth with an examination and advanced digital X-ray images, Dr. Spaniel may suggest a combination of the following procedures:
Dental Implants
Dental implants are the most durable form of prosthetic tooth because they are surgically attached directly to your jawbone with a metal post. If your jawbone is no longer strong enough to support a dental implant, Dr. Spaniel may be able to perform a bone grafting procedure to bolster the jaw. Dental implants can be used to replace as many teeth as necessary; however, you may want to explore less expensive options if you have many broken or missing teeth.
Dental Crowns
Dental crowns are caps that fit on top of your natural teeth to both hide existing damage and strengthen the tooth so that it is healthy enough to survive long term. Crowns are designed to look just like your other natural teeth so that they blend in perfectly with your smile. Dr. Spaniel has technology that allows her to create crowns at her office without requiring a second appointment.
Dental Bridges
A bridge is a prosthetic apparatus that fills in the space left by missing teeth (one or more in a row). The most popular type of bridge uses a crown on both sides to hold the artificial teeth in place, but there are multiple types of bridge, so another option may be preferable depending on the location and size of your gap.
Dentures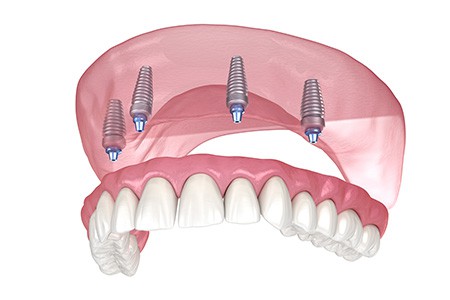 Dentures are usually the best option when all or most of your teeth cannot be preserved. Modern dentures are more realistic looking than ever before and fit so snuggly that it's easy to forget that they are not your actual teeth. Some patients prefer implant-supported dentures to hold their dentures securely in place. Partial dentures are also available if you have some healthy natural teeth that can remain in your mouth.
Schedule a Consultation
For amazing full mouth restoration results, you want to choose a dentist with great technique and technology at her disposal. To see why so many patients trust their teeth to Dr. Spaniel, please schedule a consultation at Summerwood Aesthetic Dentistry by calling (503) 906-8600.