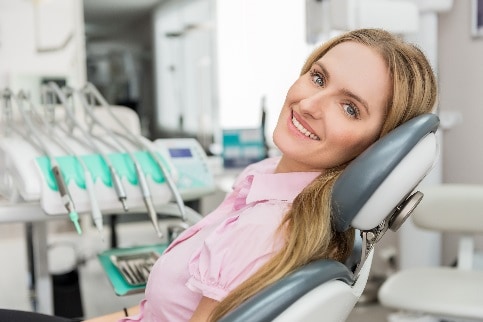 Even individuals with immaculate oral hygiene are at risk of dental issues. Should dental damage or disease occur, Dr. Julie Spaniel of Summerwood Aesthetic Dentistry is ready to help you restore your smile. The trusted Portland dentist offers a wide range of restorative dentistry treatments to rehabilitate, recreate or replace failing or missing teeth. Using the most advanced dental technologies and methods, Dr. Spaniel is able to provide tooth restorations that restore a healthy smile and fully functioning teeth.
Continue reading to learn more about the restorative dentistry services we offer at Summerwood Aesthetic Dentistry.
Dental fillings are usually the first line of defense when tooth decay has occurred. These dental restorations are placed in the spaces left by cavities to restore optimal function and a normal tooth appearance. While traditional fillings are made of amalgam, Dr. Spaniel offers tooth-colored fillings. Made of composite resin, tooth-colored fillings provide the most natural-looking appearance while protecting the teeth from additional damage.
Like fillings, inlays and onlays are dental restorations used to strengthen teeth damaged by trauma or decay. Inlays and onlays offer more coverage than fillings, making them an ideal choice for teeth that cannot be effectively treated by fillings but are not damaged enough to require a dental crown. Inlays and onlays are strong, long-lasting and crafted to blend in with the surrounding tooth structure.
A dental crown is a cap placed over a damaged tooth to strengthen its structure. Made of high-quality porcelain, dental crowns restore the function and normal appearance of teeth and protect them from further damage and decay.
Dr. Spaniel can place crowns in the span of two appointments or in a single-day appointment thanks to the innovative CEREC system. With CEREC, digital imaging and advanced computer software capture your tooth and mouth's unique measurements and specifications to create a well-fitting and natural-looking dental crown within minutes.
As the name suggests, these dental restorations bridge the gap left behind by a missing tooth. There are several types of dental bridges available. Traditional bridges consist of an artificial tooth (known as a pontic) supported by two dental crowns.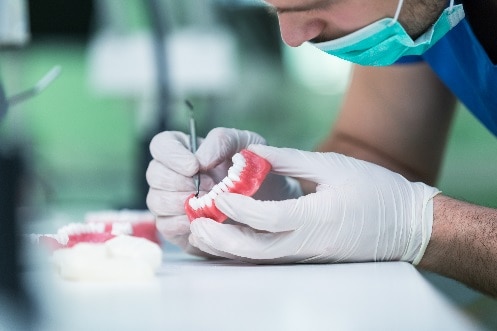 Dentures are dental devices designed to replace missing teeth. Partial dentures are ideal for patients who have some of their natural teeth, while full dentures are used to restore a full set of teeth. Today's dentures are lightweight and very natural-looking. Dr. Spaniel will work with you to ensure your dentures fit and function properly.
Dental implants are considered to be the most durable and long-lasting solution to missing teeth. Implants replace the entire tooth structure, from the root to the crown. They consist of a titanium post surgically inserted into the jawbone and an artificial tooth (dental crown, bridge or denture depending on the patient's needs). Implants are customized to each patient's teeth and mouth for the most aesthetically pleasing results and optimal function.
Dr. Spaniel and the team at Summerwood Aesthetic Dentistry look forward to being your partners in oral health. To learn more about your restorative dentistry options, please schedule an appointment with our team today.