General dentistry services are the building blocks for a beautiful and healthy smile. And because oral health is closely linked to overall health, routine dental exams, cleanings and other general dentistry treatments play an integral role in overall well being. At Summerwood Aesthetic Dentistry, Dr. Julie Spaniel has helped thousands of patients achieve their oral health goals and in the process, live happier, healthier lives. She understands that no two patients are alike and uses cutting-edge technology to provide personalized dental care. We invite you to learn more about our general dentistry services and how our team can help you maintain or improve your smile and health.
To learn more about the general dentistry services Summerwood Aesthetic Dentistry offers, continue reading below.
Routine Exams & Cleanings
Adults alike should visit the dentist at least twice a year for routine dental exams and cleanings. At Summerwood Aesthetic Dentistry, we strive to make your and your family's checkups run as smoothly and efficiently as possible. With the help of our highly trained hygienists, Dr. Spaniel will carefully examine your mouth for signs of any potential problems. Digital X-rays and other advanced technologies will be used to get an up-close look at your teeth and gums. If a dental problem is detected, Dr. Spaniel will explain your treatment options in detail to you, including the advantages and disadvantages of each.
During your professional cleaning, one of our hygienists will use special instruments to clean your teeth, focusing on the tiny nooks and crannies of your mouth — areas that are not easily reached with a regular toothbrush — where plaque and bacteria often reside. Once cleaned, your teeth will be polished for a beautiful finish. Our team can also go over the proper brushing and flossing techniques to help you maintain optimal oral hygiene at home.
Oral Cancer Screenings
Early stages of oral cancer do not exhibit any visible symptoms and can only be detected by a medical practitioner. Oral cancer screenings are performed at the time of your routine dental checkup with Dr. Spaniel, who is trained and experienced in detecting irregularities of the teeth, gums and mouth that may be symptoms of oral cancer. The earlier oral cancer is detected, the better the prognosis.
Fluoride Treatment
Fluoride is a naturally-occurring mineral that strengthens tooth enamel and prevents decay. Many over-the-counter toothpastes and mouth rinses contain fluoride. For added protection, our team can perform in-office fluoride treatments. Fluoride treatments are simple, effective and can be quickly performed at the time of your routine cleaning.
Dental Sealants & Fillings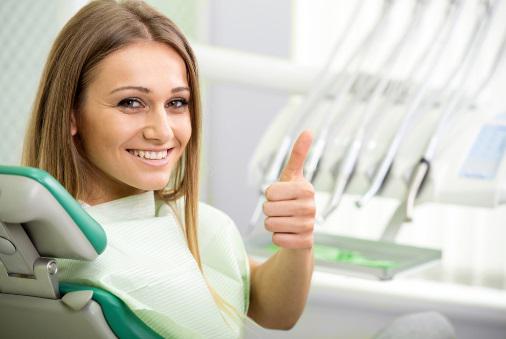 Dental sealants are an easy and cost-effective way to protect the teeth from plaque buildup. Dr. Spaniel places them over the chewing surfaces of the teeth. If a cavity is detected, a dental filling can be used to restore the tooth to its optimal shape. Dr. Spaniel offers tooth-colored fillings, which blend in seamlessly with the surrounding teeth.
Mouth Guards
If you play contact sports, you should be fitted for a mouth guard. Dr. Spaniel can create a custom mouth guard to protect your teeth, gums, lips and cheeks from injuries, giving you peace of mind when playing sports. Custom mouthguards are more comfortable to wear than over-the-counter mouthguards, so you are more likely to wear them.
Emergency Dental Care
Dental emergencies can occur at any time — at home, work or on the go Dr. Spaniel and our team are ready and available to quickly and effectively treat an array of dental emergencies, including a knocked-out tooth or trauma to the jaw or gums. We recommend keeping our office's phone number handy in case an emergency occurs.
Exceptional Dental Care With A Gentle Touch
No matter what your general dentistry needs are, Summerwood Aesthetic Dentistry is more than ready to help. Your comfort is our top priority; our team will listen to your concerns and needs and make every effort to ensure your visit is relaxing and stress-free.
To discuss your general dentistry needs, or to schedule a routine dental exam and cleaning, please contact our office by calling or sending us an email today.