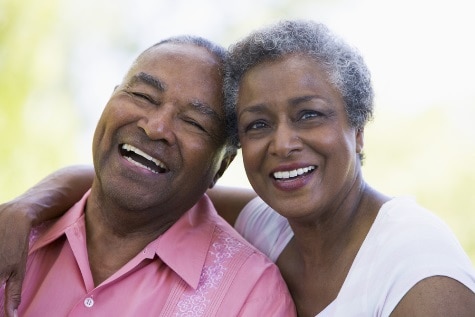 Dentures are a great option for tooth replacement as they restore oral health and restore the normal function and appearance of teeth. Today's dentures are crafted using strong yet lightweight materials, and are custom-made to a patient's unique specifications for a secure and comfortable fit.
If you are missing most or all of your original teeth, Dr. Julie Spaniel can help you navigate your options in tooth replacement, including dentures. Once the Portland dentist evaluates your unique case and understands your dental needs and goals, she can recommend a treatment plan that best offers you a second chance at a healthy and beautiful smile.
Understanding Your Denture Options
Dentures are dental appliances that consist of fully functional artificial teeth affixed to a pink plastic base that resembles the appearance of gum tissue. Dentures can be either complete or partial. Complete dentures replace all of the teeth in the upper or lower jaw, or both while partial dentures replace only some of the teeth in the lower or upper jaw.
Traditional dentures are removable but nowadays many patients opt for implant-fixed dentures, which involve anchoring the denture with several implant posts that are surgically inserted into the jawbone for added stability and support. Once in place, the implant-fixed denture can only be removed by a dentist. Dr. Spaniel can discuss the advantages and disadvantages of each type of denture with you during an in-office consultation.
Fitting & Placing Dentures
Dentures are designed and placed over the course of two appointments. In the first appointment, Dr. Spaniel will take impressions of your mouth. These impressions, along with other measurements and information, will be sent to the dental laboratory and used to create your dentures. It is also during your first appointment that Dr. Spaniel will select the color, shape and size of the artificial teeth for your dentures. The goal is to mimic the look and feel of natural teeth. If you are getting a partial denture, the artificial teeth will be crafted to resemble the remaining natural teeth to create a seamless look.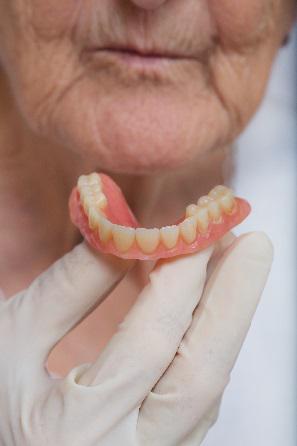 Once your dentures are ready, you will return to our office for placement. Dr. Spaniel will check your bite to make sure your dentures fit properly. Last-minute adjustments to the dentures will be made as needed. It may take some time for you to get used to wearing your prosthetics; this is normal as your mouth adjusts to chewing and speaking with the dentures. Within a few weeks, your dentures should start to feel more comfortable and secure in your mouth.
Our team at Summerwood Aesthetic Dentistry will provide you with detailed instructions on how to clean and care for your dentures. Routine dental cleanings are important so Dr. Spaniel can ensure your dentures are in good condition and functioning properly. Should you have any questions or concerns about your dentures, do not hesitate to contact our office.
Learn More About Dentures
For more information on dentures or the other restorative dentistry options Dr. Spaniel offers, schedule a consultation. Contact Summerwood Aesthetic Dentistry by calling our office or emailing us today.