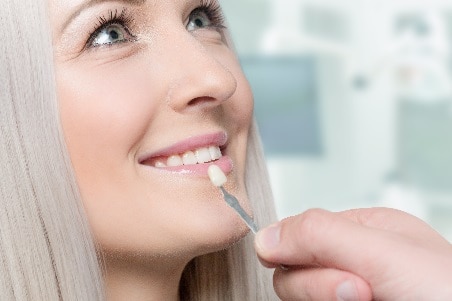 Are stained or discolored teeth preventing you from feeling your best, confident self? Do you wish there was a quick and easy way to transform your smile from dull and yellow to bright and radiant? If you answered yes to both of these questions, Dr. Julie Spaniel is pleased to tell you about in-office teeth whitening. Not only is professional teeth whitening one of the easiest ways to enhance your smile, it's also one of the most effective. Using professional-strength bleaching gels and techniques, in-office teeth whitening has the ability to lighten teeth up to eight shades, for more transformative results than those achieved with over-the-counter whitening options like toothpastes or strips. Supervised by a member of our highly trained and experienced team at Summerwood Aesthetic Dentistry, in-office teeth whitening is comfortable, effective and can produce a beautiful and brighter smile in as little as one hour.
Are You A Candidate For In-Office Whitening?
Teeth whitening may be right for you if you have tooth discoloration or stains caused by any of the following:
Consumption of tea, coffee or red wine
Tobacco products
Certain medications (e.g., tetracycline)
Genetic factors
Tooth decay or trauma
The natural effects of aging
Not all tooth stains respond well to whitening, but there are alternative options. If Dr. Spaniel determines that you have stains or discoloration that cannot be effectively treated with teeth whitening, she may recommend another cosmetic treatment like porcelain veneers. Made of thin shells of beautifully crafted porcelain, veneers are slipped over the front surface of teeth to mask surface damage, including stains and discolorations. Dr. Spaniel can discuss the benefits of each treatment option in detail with you during your consultation.
Prior to undergoing any cosmetic dentistry treatment, your teeth and gums will be checked to make sure they are in good health. If it's been a while since your last teeth cleaning, we will recommend you have one before undergoing teeth whitening or another cosmetic treatment.
In-Office Teeth Whitening
At Summerwood Aesthetic Dentistry, we perform convenient office, "chairside" whitening. During treatment, we will apply a bleaching gel to your teeth and activate it with a special blue light. Treatment is generally well tolerated, as a member of our team is present at all times to ensure patients do not experience sensitivity or uncomfortable side effects. The entire treatment takes no more than an hour. Teeth whitening has been clinically proven to whiten teeth up to eight shades.
Before treatment, a rubber shield will be placed over your gums to protect them from the bleaching agent. Next, we will apply a layer of bleaching gel to your teeth and position the laser light in front of your teeth. The bleaching gel will remain on your teeth for about 15 minutes. The gel is then removed and replaced with another layer of bleaching gel, and the process is repeated several times until the desired shade of white is achieved. Results are noticeable immediately after treatment.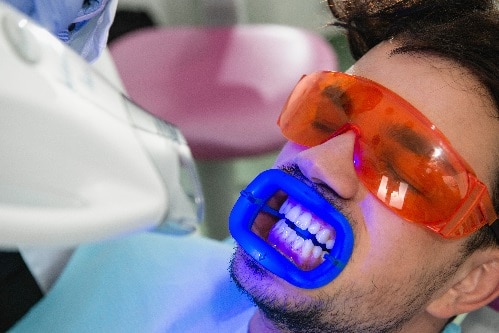 Good oral hygiene is essential to maintaining your dazzling smile. You should also avoid or limit eating or drinking foods that could stain your teeth. Our team may also provide you with some whitening trays so you can occasionally "touch up" your lighter smile at home.
Learn More About Teeth Whitening
Get started on a brighter smile by scheduling an in-office teeth whitening consultation with Dr. Spaniel. Contact Summerwood Aesthetic Dentistry by calling or sending us an email today.